Random bands have started to follow me on twitter and tumblr, and it does amazing things for my ego. In this segment, we talk about the bands that have followed me this week.

---




Lost?
​
Before I do reviews, I'll scan the "about" section on a band's facebook page. When a band lists Paramore, All Time Low, and Blink 182, I get excited. Lost? announced their return today, and it couldn't have come at a better time, because I am now enthralled by the musical instincts of this band. Lost? delivers on their influences, but avoids being a derivative pop punk band by including a unique medley of natural vocals and synthy backing beats. The mixture of synths and loops in tandem with live instruments (think strong basslines and highway running guitars) prevents this music from fading into the background. The music, in fact, outshines the vocals, and could be interesting as purely instrumental arrangements.
Powered by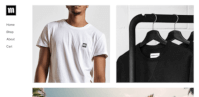 Create your own unique website with customizable templates.