I've been working on the Messenger Down street team for about two weeks now, and so far there's a lot less street than I thought there would be. Messenger Down is based out of North Carolina, and I'm in New York, so obviously I'm not working physically with the band, but I have been able to talk to their manager, which is cool. There are 19 members of the street team, and that includes me, the manager, and the lead singer of the band. So far the missions have been social media oriented, trying to get attention to the EP the band put out last month called "The Gentleman's Guide To Keeping Away From People Like You," getting votes for the band to play Van's Warped Tour battle of the bands, and getting more likes on the band's Facebook page. I even made a dinky little graphic:

Hopefully soon I'll get to put up flyers and go out to venues and talk to people about the band. So far though this has been a great way to meet some cool new people and support a band I really like. If you have the chance to join a street team I'd recommend it.
Powered by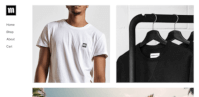 Create your own unique website with customizable templates.